Census 1911 - Waterlow Court description
Waterlow Court was specifically built at Henrietta Barnett's request to house single working women as she recognised there was little suitable accommodation for this emerging group of workers.
Named after David Waterlow, philanthropist and chairman of the Improved Industrial Dwellings Company (IIDC) who developed it. (Also donated Waterlow Park to Highgate).
Designed MH Baillie Scott, it is considered an architectural masterpiece of the period.
The accommodation at Waterlow Court:
Consisted of 49 flats. (each with a scullery, W.C., and bathroom).
3 room flats were the most common (22 or 50%)
9 (20%) had two rooms,
8 (18%) had 4 rooms,
There were 3 one room apartments (7%)
One 5 bedroom apartment.
Seven flats (14%) were unoccupied on census night. This is surprisingly as the property was fully completed and there was said to be a waiting list.
The Lady Superintendent, the Cashier and 10 females servants lived in an 8 room bungalow at the rear
The male Superintendent, his non-working wife and his brother-in-law, (employed as the Porter), had a flat at the entrance to the Court.
Who lived at Waterlow Court?
The residents were entirely women, except for the Superintendent and his brother in law, the House Porter. (The press had described it as an 'Adamless Eden'!).
Most were the single working women but it also appealed to the retired or those with private but limited means.
3 tenants were widows and 1 was married.
3 described themselves as retired nurses (all below the conventional retirement age being 57, 47 and 45)
The two oldest tenants were both still working: (a self-employed journalist and a masseuse and medical electrician)
There were 2 female children; a 4 year old living with her mother, and a 12 year old living with her aunt.
The servants cleaned communal areas, operated the dining room and provided cleaning services for residents who paid an additional charge. (Residents were required to take a minimum number of meals in the dining room each week).
How were residents employed?
Employment choices for middle class women at this time were limited:
3 residents were retired and 5 were of 'private means'
48 (85%) who were economically active. Of these:
14 or 29% were self-employed and in a couple of instances also employed others.
The self-employed were most often artists, although individuals were nurses, language teachers, and secretary/stenographers. The growing area of office and administrative work was one where several were employers.
Office and administrative work was the most common occupation, (one third)
The next most important area was education, which included teaching, (private schools and for the London County Council), lecturing and other related areas.
Several tenants were artists, usually painters, but also a sculptor, a writer and a professional violinist. Most of these were self-employed.
10% of employed residents were nurses, whilst the three retired residents had also been in nursing.
Only one woman who was employed in retailing (the cost of rent, meals and travel meant Waterlow would have been unaffordable for most retail workers).
14 residents (18% of the total) of Waterlow Court were employed by the IIDC: These were
the male Superintendent and the Porter (whose job was to deliver coal to each flat and remove ashes),
the Lady Superintendent and her female staff of
a cashier,
cook,
waitress,
two scullery maids,
four housemaids
a between maid.
Where were residents born?
Birthplaces were a reflection of the class and education levels of the residents, as well as the history of the time. Waterlow has a higher proportion of residents born abroad than most other roads, reflecting a mobile middle class who travelled around Europe and the Empire.
One resident was 'born at sea' whilst another was born in Madras, India, whilst her 12 year old niece had been born in Bengal. Another pair of sisters were born in Munich, Bavaria and Trieste, Austria. Others came from other counties which were then part of the British Empire, such as Australia and New Zealand.
29.9% of residents were born elsewhere in England
10% other parts of the British Isles (another 10%).
The largest percentage of residents were born in London (39%) (albeit a lower proportion than most other roads)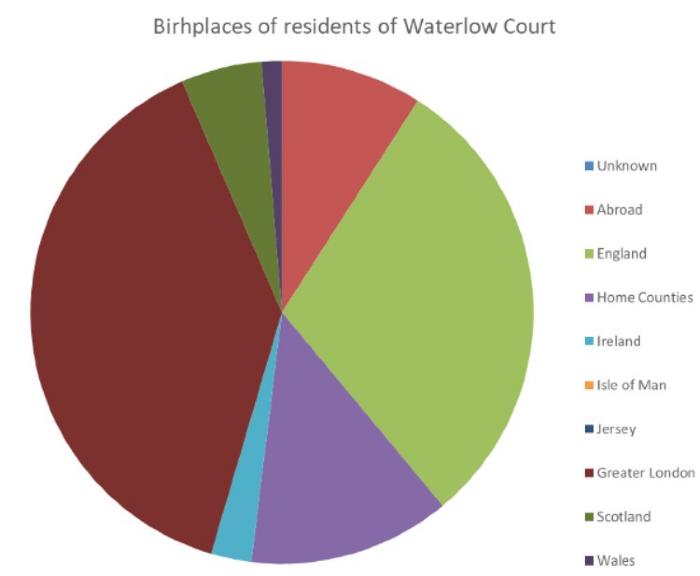 People of Interest
Mabel Stringer (1868-1958) was the first female sports journalist, specialising in golf.
Grace (De) La Touche was Head of Decorative Art Department at the Working Ladies Guild. It provided both skills training and a sales outlet for work of the required quality.
Millicent Symons Grose was a minor watercolour artist her picture of Samuel Pepys still hangs in Bodleian Library, Oxford
Alice Werner: (1859-1935) born in Trieste. She was a writer, poet and teacher of Bantu and lecturer, reader and then professor at SOAS, retiring in 1929. She was Vice-President of the Africa Society.
Census 1911 - Waterlow Court description
Related Collection
Related event
Waterlow Court flats for working women opened by Princess Louise