WW2 Personal memories by Susie Gregson

I grew up in the street where I now live and as a child I would play with the other children in the road or in our back gardens. One garden had a mysterious hole in the ground which used to be full of water with leaves floating on the top - rather smelly and disgusting but very adventurous to step down near the water level. It transpired that the steps led down to an air raid shelter, most likely constructed in 1939 or 1940. We now live in that house.

Some time last year - in 2019 - I thought it would be a good idea to open our garden to visitors in the summer of 2020, around the time of the VE Day 75th anniversary celebrations. Not for people to inspect our gardening skills but for some to have the opportunity to visit an air raid shelter for the first time. I had hoped to let groups from local schools come to visit so the younger generations might understand some of the trials and tribulations of those who lived through the Second World War. The current pandemic has put a stop to all of this but I thought I would share my video with you.

We have installed a pump to drain the water and it is dry (most of the time) but still smells rather damp. The shelter is half buried in the ground and made out of steel reinforced concrete - designed I think along the lines of a corrugated iron Anderson Shelter. It measures 6' x 6' x 6'6" high. There used to be a heavy steel door to close off the main room but is has long since rusted away after years of being submerged in water. There are two circular air vents in the main room for ventilation.

This shelter might have slept 5 or 6 people in very cramped conditions on bunk beds. Air raid shelters were used a great deal during the Blitz between July 1940 and August '41. And again in 1944 at the time of the V1 'doodlebug' rockets which inflicted considerable damage on the Suburb. Whenever the sirens sounded families would make their way with bedding, candles and food to keep safe.

The Hampstead News and Golders Green Gazette of December 26 1940 had all kinds of useful suggestions 'Comfort in your air raid shelter - some simple hints for Health and Ease' written by a special correspondent (whomever that may have been) If you did not have a hot water bottle you were urged to take a hot brick, wrapped in a blanket or woollen garments to keep you warm. Layers of newspaper between blankets also helped keep you warm. Hot drinks before sleep were encouraged and people were taught how to make hay bottles to keep the drink warm. (There was no toilet in the air raid shelter but perhaps there was a bucket with a curtain in front of it.)

You were reminded to air your bedding every day, that every member of your family should gargle their throats before going to the shelter and again when they got home, after the all clear had sounded.. Cleanliness of your person and your belongings was most important and helped more than anything to prevent disease.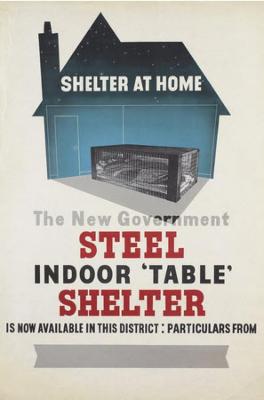 My mother-in-law, Audrée lived with her family lived in Exeter where they had a Morrison Shelter (a moveable table shaped cage) and at night they all used to go to sleep in that. This was how the British people had to 'Shelter at home' back then. American sailors used to visit to be with an English family and would bring tins of Spam as gifts.

VE Day brought great celebrations on the streets of London for the government, civilians and home guard. Although celebrations took place in London and the UK, for many troops the war would not end for months and it was even longer until they reached Blighty again. The troops in Europe and Africa had to enforce the terms of surrender. And while the war was over in Europe, the fighting continued in the Far East until September when the troops then had to ensure the conditions of surrender had been met there too. (Including my father Ron Gillard). Thousands who eventually returned were wounded, scarred and unable to talk about their experiences. 20 million soldiers died during the course of the war all over the world and many millions of civilians including over 7 million in the concentration camps of Nazi Germany.

The order of the Day on 6 May 1945 from Brigadier Carver, Commander of the 4th Armoured Brigade concludes with the words ' Whatever each one of you may do, life will not be easy. Let us pray that we may all be sustained in the months and years before us by the same spirit of cheerful courage and self sacrifice, of loyalty to a high purpose, which has brought us safely to this hour of victory. Only if we keep that spirit alive in us and in all we do, shall we be worthy of the may who have fallen on the way'. Those words seem particularly poignant on 6 May 2020.
Document, WW2-6-2