Walter Thackrah - WW1
To display in FULL SCREEN hover the cursor over the image above ​and click the top left zoom button
PRIVATE WALTER THACKRAH,
24th Machine Gun Corps
Died 15th May 1918, aged 29
In June 1916 Walter Thackrah enlisted at Cricklewood for the Army Pay Corps and was called up on 2nd February 1917. After months of training in North Wales and Stamford the company departed for Le Havre on 15th July 1917.  During the fierce fighting in northern France he received serious wounds from which he died on 15th May 1918.   He had been a valued member of the Free Church, the Minister, Rev Rushbrooke had written strongly recommending him for a promotion in the Army. Walter's home was 'Roundhay', 13 Oakwood Road, where his widow Daisy and baby son, Gordon, continued to live until 1939.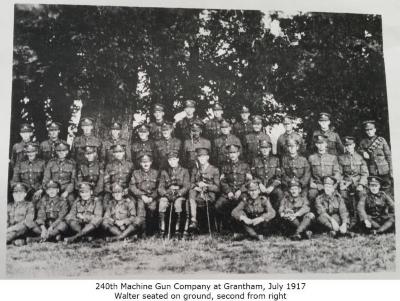 Daisy and Walter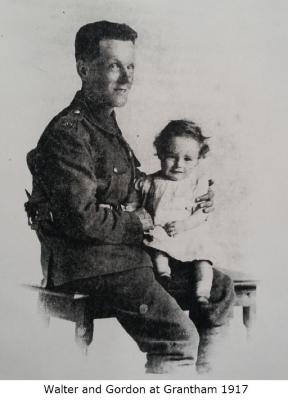 Walter Thackrah left a baby son, Gordon, when he was killed in 1918. This son published a book 'Daisy and Walter' which gives a very moving account of his father's war service. A copy of which was given to the Free Church archive in 1988.

The creation of Daisy and Walter

In 1939, when I was twenty-three, my mother died and left a small, Victorian mahogany box in which were all the letters my father had written to her. The box is now my granddaughter's jewellery box.

Around 1974 I looked at these letters and noticed the purple carbon pencil which Father had used when at the Front, was fading and was none too clear. So, for easier reading and for posterity, I transcribed them, and in doing so had the idea of researching his military career and ascertaining what he had done and where he had been which, because of the censorship, the letters did not reveal.

All through my boyhood and youth I had been well aware of how much my mother had loved my father, how badly she missed him and what a tragedy his death was. I have always accepted this but then suddenly saw down the long vista of fifty years, that there was another aspect; that when time was discounted, it was a perfect love affair and marriage, and it had in fact, been complete.

Then when I researched Walter's war - both his personal movements and actions, and also the wider implications that phase of the War, the incredible drama and irony of Walter's situation was revealed. Here was a Baptist, a peace loving man with no tradition or desire to fight, in a country that had never had conscription, but drawn into doing so, and was so quickly converted into a battle-hardened soldier. Immediately he was involved in eight months continuous trench fighting, without respite, love or rest, through some of the worst battles in all history, culminating in the Battle of Lys. the most critical of the whole war, when they were outnumbered two to one by fresh German divisions from the Russian Front. The British Army fought a fighting retreat - and won.

Waiter's letters show not only his great love for Daisy, but also his strong Christian faith which, in spite of the horrors around him, kept his nerve steady and which the enemy failed to break and must have contributed to the victory. Perhaps too, Daisy may have heard of Queen Mary's appeal lo the women of England for a Day of Prayer during the battle.
Photograph, WW1-23