Kenneth Richard Oliver - WW1
To display in FULL SCREEN hover the cursor over the image above ​and click the top left zoom button
Gunner-Observer KENNETH OLIVER
Died 23rd April 1917, aged 19
He was completely fearless in his duties and won esteem among his comrades. His machine had just disposed of an enemy plane in an aerial fight when he was instantly killed by an explosive bullet, the pilot was severely injured and crash-landed the plane. Kenneth was one of three brothers, sons of Richard and Minnie Oliver of 183 Hampstead Way. He worshipped at the Free Church and sang in the St Jude's choir whose vicar wrote a very moving tribute to him in the Parish Paper. Kenneth Oliver is remembered on the St Jude's memorial and at the Free Church. He lies in Warlincourt Halte British Cemetery, Saulty, his headstone bears the inscription 'On Wings of Faith and Love from Cloudy Regions Here to Heaven Above'.

From his family: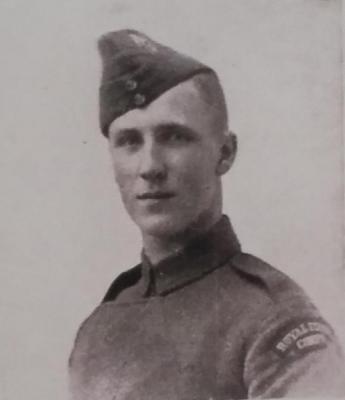 Kenneth Richard Oliver 1898 - 1917

Kenneth Oliver was my great uncle. He was brought up on the Hampstead Garden Suburb living at 183, Hampstead Way. His father Richard worked as a jeweller and he had two older brothers, one of whom was my grandfather Donald who lived on the suburb until his death in 1974, and a younger sister. He took an active part in Suburb life attending the Free Church and singing with St. Judes choir.
He enlisted into the Royal Flying Corps on 13th December 1915 giving his age as 19 and joined 55 Squadron in April 1916 which then served as a training unit. The squadron mobilised for active service in January 1917. It was the first squadron to be equipped with the DH4 day bomber, which the squadron started receiving in January 1917. On 5th March the squadron stated to fly over, but due to bad weather they did not start arriving in Fienvillers in France until 15th March.
For the first 3 weeks the squadron was involved in practice flights learning the country and formation flying.
The squadron first crossed the lines on 5th April to attack the headquarters of Prince Rupprecht of Bavaria. Seven DH4'S left on the mission. One returned having lost the squadron due to engine trouble. Three dropped 10 x20pound bombs in the area of the target with unobserved results and three dropped bombs in other places. On the return journey one aircraft crashed with minor injuries to the pilot and another ran out of fuel and forcelanded.
The next day there were successful missions against ammunition dumps and railway yards at Valenciennes but on Easter Day 8th April the squadron met with disaster. Four machines left to bomb Valenciennes but only one returned.
On 9th April the Battle of Arras commenced. This was a British offensive and proved to be a severe test for the Royal Flying Corps. The German fighter aircraft, notably the Albatros, were of superior performance and Baron von Richthofen had just formed the first "flying circus" which was operating in the Arras region. The circuses consisted of 48 machines manned by picked fighting pilots and led by the Red Baron himself.
Owing to bad weather 55 Squadron was unable to take part in the fighting at Vimy Ridge or Scarpe, but on 23rd April another raid on Valenciennes took place in which the four DH4s were attacked by nine red hostile aircraft.
The next day Kenneth Oliver and his pilot Lt de Lavison set off on a mission to bomb the airfield at La Briquette. Five DH4's reached the target and dropped forty-nine 20 pound bombs. Some were observed to hit buildings at the edge of the aerodrome. The DH4's were attacked by hostile aircraft over the target but these were driven off.
Meanwhile, Otto Bernert, who had been awarded the Pour le Merite - The Blue Max, on the previous day, had just claimed his 20th victory - a Strutter from 70th Squadron which had been on a recce of Cambrai escorted by some Pups. He soon spotted other targets, three BE2 aircraft from 9 Squadron who had flown out on a bomb raid with no gunners to increase their bomb load. Between 8:40am and 8:45 am, he shot down all three. Five minutes later Bernert spotted Kenneth Oliver's DH4 and attacked it. Kenneth was killed and the severely wounded pilot crash landed west of Bony at 8:50 am on 24th April 1917.
Kenneth is buried at Warlincourte Halte British Cemetery, Saulty, Pas de Calais, which is just off the N25 between Doullens and Arras. Plot 10, Row c, Grave 1.
The gravestone has the inscription "On Wings of Faith and Love from Cloudy Regions Here to Heaven Above"

 
Photograph, WW1-18