HGS U3A
HGS U3A, the University of the Third Age serving Hampstead Garden Suburb and surrounding areas, was set up in May 2017 to provide an opportunity for retired and semi-retired people to come together and learn together, not for qualifications, but for its own reward—the sheer joy of discovery. Membership exceeded 500 within the first five months, with 60 interest groups offering a wide range of activities, including arts and crafts, languages, current affairs, walking, photography, wine appreciation, and fitness.

The inspiration for HGS U3A came from a small group of Suburb residents who were members of the long-established London U3A in Belsize Park. They felt a need for similar activities to be offered locally. With the help of the national body, the Third Age Trust, they organized a public meeting in the Hampstead Garden Suburb Free Church to gauge the level of interest. Even though the meeting was held on a wintry February day, the response was overwhelming—standing room only.

A steering committee was established under the chairmanship of Jack Berkovi, and work began in earnest to devise a programme of activities.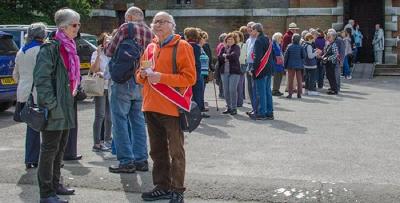 By Enrolment Day on 18 May 2017, volunteers had come forward to run 30 groups. Again, the response was overwhelming. A long queue formed outside the Free Church before the doors opened. By the end of the day, HGS U3A had 280 members.

Like all U3As, HGS U3A is run entirely by volunteers. Even committee members and interest group leaders are fully paid up members. HGS U3A doesn't have premises of its own. Many interest groups are run by members in their own homes. Some groups run their activities outdoors. The remainder meet in hired facilities, including Fellowship House, the Free Church and Free Church Hall, Alyth Synagogue, and Golders Green Library. Topical Talks with invited speakers are held on the fourth Thursday of each month. Non-members are welcome to attend the first time, but if they want to attend on subsequent occasions, they must become paid-up members. The membership fee is currently set at £35 a year. Attendance at most interest groups is free, although some groups make a nominal charge for equipment and/or refreshments.

HGS U3A was formally admitted as a member of the Third Age Trust on 26 July 2017. It is currently applying for registration as a charity.